Both french cut types are each available in every usual clarinet reed strength and in their form specific facing lengths.
A Ten pack
of french cut reeds costs
25,00 EUR
.
A box of fifty
reeds is
112,50 EUR
.
Depending on measures, weight or worth of the goods our shipping charges start at:
4,50 EUR for shipping within Germany, or
5,50 EUR as a parcel incl. insurance up to a value of 500 EUR
7,39 EUR for shipping within Europe, or
10,57 EUR for a registered letter with insurance (plus 2,00 EUR for any further step of 100 EUR value)
Our prices are valid since december 1st 2016!
Our offer for new customers: a mixed box at the regular price.
Occasionally I can hear some people say:
"Well, I have a bucket full of reeds which do not work!" or
"I just can't handle those clarinet reeds, that I presently get in a music store!"
"Yes, I know that one!" mostly is my first answer.
But I also hear people saying:
"Oh, yeah, what else did the old folks know about how to make a reed !" or
"If there is someone who can make such a good reed, then why should I need a plastic reed?"
As one of my teachers once put it: "Well, if you cannot find one single book you like on a certain subject, you will have to write one yourself!"
So, maybe you like one of these!
Did you make your choice? Order now!



Foglietta german cut reeds are made in every usual clarinet reed strength. We sell them in
packages of ten
reeds at
28,00 EUR
.
The box of fifty
reeds costs
126,00 EUR
.
Depending on measures, weight or worth of the goods we allow ourselves to encount you (starting at):
4,50 EUR for shipping within Germany.
5,50 EUR as a parcel (Germany) incl. insurance up to a value of 500 EUR
7,39 EUR for shipping within Europe, or
10,57 EUR for a registered letter with insurance (plus 2,00 EUR for any further step of 100 EUR value)
For our new customers we specially offer a mixed box of 10 german cut reeds at regular conditions.
Our prices are valid since december 1st 2016!
Clarinet reed strength :
Of course you can have all Foglietta reed types from the collection above in every usual reed strength from #1,5 up to #5.
But the reed strength a player actually feels does not only depend on any local airpressure or temperature. The same clarinet reed is considered to be totally different on two different mouthpieces, one with a small tip opening and one wide open. In addition to this, a player will have different impressions of one reed's strength on a long or a short mouthpiece facing.
In general, several clarinet players share some experiances which all show the following:
A medium strong reed which works quite well at home can be surprisingly much softer coming to Mas Palmas and playing a concert at sea level during a light breeze from Sahara tinged with desert sand. Vice versa, coming from sea to the alpine St. Moritz at a level of 1800 m joining the stage on a cold and dry winterly day, the same one reed can be felt incredibly hard.
basic mechanical physcs teach us the following:
An open mouthpiecefacing makes a singular clarinet reed harder than a narrow facing does, and a long lay makes it softer than a short one does - same tip opening implied.
The basic position of a reed on a mouthpiece
is showing reed tip and tip rail of the mouthpiece-facing at same height, which you may see on the picture beside.
Anyway, to the left and to the right a reed should be fixed in the middle of the mouthpiece.
This would be the starting position in order to determine the strength grade of a reed and mouthpiece combination by playing.
This position also helps us to decide which remedies eventually have to be made.
Well, with a rather soft reed it is possible
to shift up your reed
some tenth of a millimeter higher than the tip of your mouthpiece.
The reed saddle is wedge-shaped and, due to this, also that part of the reed which covers the tone chamber of your mouthpiece is getting a little thicker and more stable. Furthermore the contact point of your embouchure now meets a thicker cross section on the reed.
As a consequence you will need more effort to bend the reed tip towards the curved mouthpiece-facing than you did before.
Your reed is gaining more stability
( this is also stated in the textbooks of mechanics on the subject of bending stiffness of cantilever beams with a fixed end ).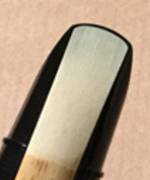 By
shifting down the reed
a few tenth of a millimeter, so much that you can see a bit of the tip rail of your mouthpiece behind the reed-tip, you will achieve the reverse effect: The cross section of the effective reed saddle decreases, the embouchure contact point meets a thinner region on reed tip and you will need less effort with your lips. Additionally the air mass in the gap between mouthpiece and reed-tip is reduced now, which means that your reed is responding easier than before. As a total effect, you will have the
impression of a softer reed
.
Now, how to find a good reed strength in this tense atmosphere?
Well, let me put it this way: The personal sound idea in conjunction with demands on a clarinet reed concerning playing techniques often do meet further determination in prevailing conditions from outside. At first hand sometimes a singular composition or a concert hall requires a very special reed strength or a certain distinguished playing quality of a reed. At second hand every clarinet player for sure has a deeply personal inner sense of sound. And this is the big key!
It would be unsufficient, or even wrong, to state that a definite reed is a must have or a certain reed strength is ultimate truth. The inner voice, the personal illusion of a clarinet sound is a reliable adviser to make the best choice under certain circumstances, disregarding additional requirements as a wide range of dynamic which is needed or if a perfect response while playing piano or an excellent staccato quality is still more important.
Finding clarinet reeds for beginners, choosing a reed strength?
The shape of a reed facing in this case mostly is not so important. Maybe a good idea would be to choose a reed with a short facing in a medium soft reed strength of let us say #2,5. If it should be necessary
adjusting the clarinet reed
can be easily made by half a strength up or down.
The mouthpiece should have a medium long facing with a tip opening of 90 to 95 hundredths of a millimeter. Such a quite universal setup should be a good basis to learn more on sounds and playing techniques of a clarinet.