This is Foglietta:
in person
Hello, my name is Peter Przybylla,
now I am 57 years old, and I can look back on 33 years of professional experience as 1st solo clarinet in a German Radio orchestra. In addition to my life in the orchestra I have also been working together with excellent musicians in many different forms of chamber music. Several CD recordings and concert tours passed during this time and I remember a number of beautiful concerts.
From 1984 to 1987 I have been living in Berlin studying at the "Hochschule der Künste" with Prof. Peter Rieckhoff, in order to hone my skills in playing clarinet and to enhance my musical conception.
Furthermore he told me lots of these precious little things and details which he has been learned by Ewald Koch or many others, concerning clarinet, reed and mouthpiece and their complex interaction.
In 1985 his wife had taken the decision to produce clarinet reeds and Foglietta had been founded. I've known the company from its conception and since that time I never missed an opportunity to help and involve myself, even when I had started with the orchestra and also after Peter Rieckhoff sadly passed away in November 1994.
philosophy
The quest for a precisely balanced clarinet reed made of a well selected piece of cane together with a perfectly tuned mouthpiece facing is an essential part on the way of mastery playing the clarinet. The most important point of motivation for Peter Rieckhoff in founding this company may have been to provide his students in addition to a profound musical and instrumental training at least one option of a solid and reliable setup, a well blowing combination of reed and clarinet mouthpiece which individually suits the player.
Since Oktober 2003 I have taken over the management of Foglietta and the company had to be moved from Swizzerland to Mehlbach, a small village near Kaiserslautern in the southwest of Germany.
Naturally I am obliged to this tradition with all my knowledge and experiance and of course I shall continue to be at your service, dear customers, to help you with all the information you require where clarinet reeds are concerned.
The concept
of Foglietta can be brought to one conclusion: This wealth of knowledge drawn from generations and our experience in treating arundo donax are channeled into a closely controlled automatic processing. Due to persistant innovation, completely selfcreated reed cuts and itinerate personal tests we provide manually tested clarinet reeds of high quality and dimensional accuracy. Our mouthpiece facings subtly matched with the reed schedules are created as a perfect complement. In one phrase: By combining tradition with innovation and creativity we want to give the clarinet world a combination of reed and mouthpiece which has a sound of its own personality.
cane
Of course, making a good clarinet reed requires more than good patterns and know how, namely the proper raw material. For this reason it is important to have reliable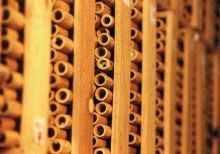 suppliers who guarantee optimal pre-treatment and cane seasoning. Even then the personal contact does matter since the canes must be tested and laid in stock. Just as wine in a cellar, the "hidden reserves" of cane in storage are sorted according to age and region so that only the best canes are taken for reeds.
manufacturing process
First the cane tubes must be split into four segments by hand. Then, the straight pieces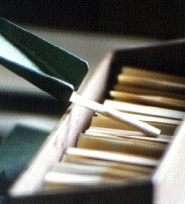 are selected and cut to the desired length. After straightening the bottom of the tube segments by shaping, it has to be decided which end later becomes the tip. Eventually, the raw pieces are cut into form mechanically and the bottom side is polished. Before planing the actual form of the reed, the facing length needs to be fixed. This is done by milling of the hard, outer layer containing silicic acid. In order to run the process of automatically planing out the reed shape, the machine settings for each schedule have to be made and the accuracy and repeatability for every production
serie have to be secured and logged. Adjustment and maintenance of the machines as well as prcisely grinding the planer knives of course are issues for top-level action. The shaped clarinet reeds can now be trimmed and sorted into eight different strengths.
final check
A good sorting machine is able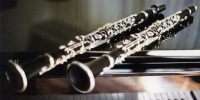 to achieve a lot, however, it is absolutely essential to blow the reeds and test the different adjustments of the patterns, throughout the whole production process. In the end, the response and the sound of the instrument are the criteria for a successful
clarinet reed
.
before shipping, every single reed is again viewed by me in order to be sure that no defective product leaves our house.
Quality speaks for itself and for this reason the traditional handiwork is so important to us.